Social Media platforms have become very popular and influential over the last few years.
If one speaks about social media as just a place to pass the time, they are very wrong. The days are gone when people would just use social media to post a photo of their favourite meal. It has become a digital marketing place, offering millions of businesses opportunities to advertise their products and services. According to statistics from Statista, Facebook remains the most-used platform in 2020 with nearly 3 billion active users in a month, closely followed by YouTube.
This clearly highlights the power of this platform to spread information across the globe. The reason Facebook and YouTube are frequently visited social media sites are their accessibility to a huge variety of content and their inspirational value. YouTube has become instantly popular among youngsters, while Facebook remains the favourite of people of all ages.
You will often find certain posts where the creator has added some provoking thoughts that are either innovative, encouraging, annoying or perhaps irritating, etc. Such posts spread fast and are shared by others quickly due to their shock value. A good number of shares mean many people have engaged with and reacted to your post, while less or no shares indicate the content is lacklustre and people don't engage with it much.
Importance of Likes and Shares
If you are just a casual user of a social network, you may not be too bothered about the likes and shares you receive because you don't aim for any gain. However, for those who want to gain more traffic or new customers to increase their revenue the engagement on social media networks matters hugely. Nowadays, many reputed companies are opting for social media advertising over branding by celebrities or a combination of both through social media influencers.
They are aware of the impact of social media, and they aim to capitalize on the maximum benefit opportunities provided by such a platform. Almost all registered companies have an online presence on Facebook, LinkedIn and Twitter to promote their brands. They gauge the people's response and choose the right target audience. You can read more about current social media marketing trends on the SeekaHost Blog.
Why one needs to Track Social Shares and Engagement?
On social media, the success of any post or campaign is measured by the number of shares and views. This is exercised by around 40% of social marketers. It can be easily said that this is not the full proof of the campaign's success, considering that if a celebrity is posting, their fans will like and share it without bothering about the content.
Figure 1 With Analytics Tools you can track the performance of your social media campaigns
This is true and not just a vague statement. Their tweet or post shares just become viral without much effort, whereas these same people ignore posts with real value from some fewer known personalities. If you are posting something relevant to your business and it is shared but not giving your business a good result, then it is not going to be fruitful for you. You must invest great effort and money into making your posts more popular and engaging.
7 Easiest Ways to Increase your Social Media Shares
Because there are various ways in which you can increase your social media shares, we will cover the best methods below. Social media algorithms are fickle. There is no secret or guarantee for success as such as every business is unique and different, and no campaign can be the same. One must stick to the best-established practices of social media promotion and useful social media content, encouraging people to engage with and share for maximum exposure.
Choose the most effective shareable contents in the form of videos, images, or news
It is not a secret that people on social media mostly engage with visual content. Images (68%) and videos (50%) are at the top spot. Short video clips laced with catchy texts will do good rounds on social media platforms if they are relevant to their audience.
Infographics and visual presentations are also trending fast as they provide useful information in a glance. People will usually go for the quick read rather than conventional longer posts. However, the 'did-you-know' stories have not faded away, and you can surely opt for one related to your business. Once you have identified your target audience and their questions or concerns, you can tailor your posts and their contents for a better outcome of your campaign.
Decorate Captions to Draw Attention to your Posts
Encouraging people to like or click on the link of your post can be challenging. People won't bother to click links unless it excites them or makes them curious. You can adopt a strategy so that they will go through a link and share the post. Here are some tips:
Use more appropriate call-to-action phrases in your copy. ('retweet' or 'share this')
Be aware of character limits on each network and capitalize on the facility by including relevant and searchable terms in your copy that trigger engagement, e.g. "share with a friend".
Your Posts must be Mobile-friendly
You must understand that most of the social media network are used through mobile apps, so your posts must be attractive and readable on mobiles. You can take some additional measures to ensure not to miss out on your mobile audience:
Cross-check the visibility in terms of zoom, image previews, and total contents presentation.
Appropriate social captions with line breaks and punctuation rather than a series of texts and hashtags tend to work better on mobiles.
Your social videos must be accompanied by captions so that even the people using their mobile in silent mode can access them easily.
Choose the Right Time for Posting
While even a non-specialist can understand this, the importance of this is very crucial. It is quite natural that more people are bound to get attracted to your post when there is heavy traffic on that particular platform. Since the probability of sharing a post is always less than that of viewing, you will have a chance that more people may share it at a specific time of day. You need to pick up the most active period of your followers or visitors and their general engagement. You can do this by using analytics tools or tracking tools and you should consider audiences in different time zones. Some social media management tools suggest the best times for your posts to be shared, if you're automating this.
Follow what is Trending
To adopt what is trending now is a wise decision. Whether it's hashtags or memes, be sure to seize opportunity through what people are talking about to date. This is a proven way to score more shares. You can boost your brand's personality and awareness even by doing this low-effort trend following. Ensure your content is appropriate and add a little flavour of humour or entertainment to your post.
Adopt the Auto-response Method
You can say something about your promotion by encouraging people to vote. When you drive people into conversations through questioning, there would be an exchange of opinions and views, which you can use in return for another post. You can set a poll question relevant to your brand and ask people to share their personal thoughts.
This trend is effortless and prime to share, paving the way for new people to join the conversation. Through a series of question-based polls, you can build a strong network of followers and gain more shares. And you can use this data for your own advantage to improve your content.
Add Embedded Captions from Media to Enhance Post
Liking or sharing a post should be comfortable and easy with just one click. To share your post, you have to minimize your follower's work. Include social share buttons in your post or embedded tweets within your content that viewers can share easily while on your site. Not only that, your email footer, too, can have the social share buttons to convert your subscribers into your followers. Including the "Like, Share, and subscribe" is a crucial and widely adopted method, especially on YouTube videos.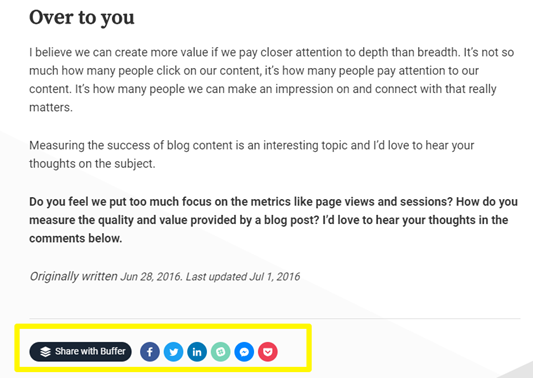 Final Thoughts
As a digital marketer you should certainly make the most of the marketing opportunities social media channels offer. Try to follow some of our trialled and tested methods and see if they bring you results. It is always better to alternate the methods while promoting a brand rather than sticking to one method only and you will have to analyse your campaigns regularly to understand what your audience responds best to and how you can increase their engagement best.
Out of these, the 'tried and tested' methods can be used quite frequently to get more scores on shares. So, define a content strategy that results in consistent shares from the audience you targeted and focus on the two most popular platforms Facebook and YouTube as they provide you with the largest exposure.
Author Bio:
Bhavik Soni is a Creative Writer at Auto Monkey. We provide an original analysis of the latest events in the social media industry. Connect with Latest Social Media Trends and News plus tips on Twitter, Facebook and other social platforms on the web.