Coping with a cancer diagnosis encompasses more than medical treatments – it has an impact on psychological, emotional and social health. As employees living beyond cancer look to return to their job, the significance of workplace support becomes indispensable.
How Businesses Can Provide Support to Employees After Cancer Treatment?
Challenges Faced by Employees Living Beyond Cancer
People living beyond cancer often grapple with a spectrum of challenges that can profoundly affect their work and wellbeing. Common symptoms after treatment such as fatigue and discomfort can hinder productivity and overall performance. Moreover, the mental and emotional toll of battling cancer can result in anxiety, depression, and emotional strain, further complicating their ability to navigate the workplace effectively.
Providing Holistic Post-cancer Support
By recognising these multifaceted challenges, employers can play a pivotal role in facilitating a supportive work environment that empowers employees living beyond cancer. Here are several strategies that employers can implement to provide holistic post-cancer support:
Flexible Work Arrangements
Adopting a compassionate approach, employers can offer flexible working hours that enable employees to manage medical appointments and contend with physical fatigue. This not only reduces undue stress but also allows them to maintain a better work-life balance, contributing to their overall wellbeing. Flexibility can also include remote working and reduced or split hours to accommodate for a more comfortable routine, particularly in the early stages of returning to a full-time career.
Prioritising Physical Comfort
Creating an ergonomic workspace by providing comfortable chairs and workstations can significantly alleviate physical discomfort. Acknowledging the unique needs of employees living beyond cancer showcases a commitment to their health and comfort.
Access to Mental Health Support
Acknowledging the emotional challenges of cancer and offering access to professional mental health services such as counsellors and therapists is invaluable. These resources can aid employees in managing anxiety, stress, and emotional strain, fostering a healthier mental state.
Online Resources for Support
Supplementing traditional mental health services with online resources such as self-help guides, mindfulness apps, and webinars can also offer employees easily accessible tools to navigate their emotional wellbeing.
Gradual Reintegration
Not all employees can jump straight into full-time work mentally or physically. Introducing a phased return-to-work plan acknowledges the need for a smooth transition. This approach ensures that employees can gradually adjust to their work responsibilities without feeling overwhelmed, giving them a chance to catch up with changes to the business and the responsibilities of their role.
Comprehensive Cancer Employee Benefits
Employers can collaborate with programmes like those offered by Perci Health to provide tailored post-cancer support. This includes access to a network of experts who specialise in physical and mental health, enabling employees to receive holistic virtual care when needed. Cancer care employee benefits also help those living with cancer, or those who are supporting someone in their family who has been diagnosed.
Open Lines of Communication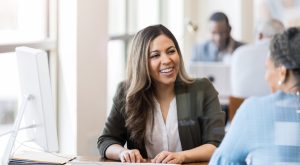 Creating an environment where employees feel comfortable discussing their needs and concerns is essential. Regular check-ins and open communication ensures that employees' post-cancer challenges are addressed effectively. Make sure all conversations remain confidential and are handled sensitively.
Education and Sensitisation
Promoting awareness and understanding among colleagues and supervisors about the unique needs of employees living beyond cancer can foster empathy and a supportive atmosphere. Consider making key team members aware of individual situations but also raising company-wide awareness of living with and beyond cancer in the workplace.
Conclusion
Employees living beyond cancer require a supportive and safe workplace that recognises the challenges they face and takes proactive steps to address them. By embracing flexible work arrangements, prioritising physical comfort and offering access to cancer experts, employers can significantly contribute to their employees' wellbeing and successful reintegration into the workforce.