When you've been charged with a crime, it's important to get a criminal lawyer to guide you through the process. In order to get a fair and balanced conclusion, you must have a criminal solicitor who will handle your case in the best possible way. Being charged with a criminal offence may be a traumatic and stressful process. You'll start asking yourself things like, "What do I do?" How am I going to get out of this? So, what's going to happen now?" while driving you into a dead-ended loop. However, a criminal lawyer can assist you with all of these issues and more.
It takes a toll on a person to process a criminal case. If you try to begin gathering evidence and fighting your case on your own, you will get overwhelmed with worry and tension. You are innocent until proven guilty, and it is not worth jeopardising your bodily or mental or occupational health. An expert criminal lawyer will take care of everything for you and take the weight off your shoulders, leading you through the stress of a criminal case. Let's discuss a bit more on why you should hire a criminal solicitor.
Your Representation
Criminal lawyers can not only defend you in court but also advocate for you throughout police investigations. A qualified criminal lawyer can deal with stress in a calm manner, and they will know your rights when you don't. Criminal lawyers will advise you on what you should and shouldn't say, ensuring that nothing incriminating is spoken about that might jeopardise your case.
Criminal attorneys can assist you with skilled representation and guidance at every stage of your case, ensuring the best possible conclusion. The solicitors understand that going to the Crown Court may be a stressful event, which is why they are here to help you relax.
In Court, the Most Effective Defence
You will not have the greatest possible defence in court if you do not hire a criminal lawyer. Arrest, bail, arraignment, preliminary hearing, pretrial motions, trial, sentence, and appeal are all common processes in criminal prosecutions. Each of these steps needs a great deal of experience and attention. A qualified criminal lawyer will be able to guide you through all of these steps in a timely and peaceful manner.
Criminal lawyers understand how to gather evidence, interrogate witnesses, choose the best line of inquiry, and persuade the jury to side with you throughout the trial. If you are charged and your case is taken to the Crown Court, court attorneys will examine the Prosecution evidence to ensure you are as well prepared as possible.
Obtain the Best Possible Results in Your Case
A criminal counsel will discover the greatest possible solution in each instance, regardless of the outcome of your case. If you are charged, criminal attorneys have a lot of contacts and can help you achieve the best result possible. Solicitors know when to submit a plea in moderation, which allows you to spend the shortest amount of time feasible. Lawyers can also negotiate with the prosecution for future charges to be reduced and jail sentences to be reduced.
Now that we know the 'Why', let's move on to our main discussion on 'who' is the right criminal solicitor you absolutely need and can trust when a dire situation comes at hand.
Top 10 Criminal Solicitors in London
1. Newton Law
From delicate and personal allegations to the most serious cases, Newton Law's criminal defence team has a lot of knowledge in all areas of criminal law. With a passion and dedication to impress client the verdict they deserve.
Newton Law offers one of the best services in a time of incessant need. If you are charged, they are assured to represent you in Crown Court and thoroughly review and scrutinise every piece of evidence for your betterment. In their own words, "To protect your reputation, we vigorously defend our clients while keeping total secrecy and professionalism."
Farani Taylor is a premier full-service law company based in London that prides itself on providing comprehensive and accessible legal assistance. It aims for excellence in everything they do, offering individualised legal assistance to companies and people.
Ola Leslie Solicitors is a premier residential and commercial real estate legal business in London. The business has a strong reputation for offering exceptional customer service and effective commercial advice.
Ola Leslie Solicitors is a pleasant, approachable legal office with expertise working with huge organisations in the city and assisting people with small business and personal affairs such as employment law, immigration, wills and probate, and home conveyancing.
4. Alexander and Partners
Alexander and Partners is a professional practice of experienced solicitors, founded in 1973, that specialises in personal injury and medical negligence cases, as well as all elements of family law, divorce, and childcare.
Located in Harlesden, North West London, where they have a solid reputation. Alexander and Partners provide clients with a knowledgeable and compassionate service that combines professionalism with warmth and approachability. They take pleasure in using our legal expertise to help the local community and very much so believe in putting up a fight for their customers and going above and beyond for them.
They have been involved in a number of significant and high-profile local and international matters over twenty years of operation. In high-profile criminal law matters, they provide 24-hour help as well as management level services.
Berkeley Square Solicitors is a central London legal firm that delivers an individual service to its customers. It was founded by three of London's most well-known criminal lawyers. If you instruct Berkeley Square Solicitors, you will be represented by one of their three partners or a designated senior lawyer, not a junior solicitor or paralegal, unlike some bigger production line offices. The Berkeley Square reputation is founded on our unique aggregate experience and success in defending persons and businesses in the United Kingdom and across the world.
Their goal is to leave no stone unturned in their investigations and to be proactive. Stuart Miller Solicitors are experts in their disciplines, and they are well-respected and dedicated to helping their customers get the best possible results.
Stuart Miller Solicitors has been practising law in the United Kingdom since 1984. It has represented clients in some of the most high-profile and serious criminal cases in the United Kingdom. They have a track record of more than 10,000 victories in instances involving fraud, drugs, and sexual offences.
They strive for daily success for their customers and work around the clock to ensure that justice is served to them. Their attorneys have vast expertise defending matters ranging from the most minor to the most complex in the country.
J D Spicer Zeb is a premier league top and criminal defence legal firm that has been in business for 44 years and they have extraordinary and leading criminal lawyers.
Kingsley's staff have a reputation for being imaginative, creative, and sensitive in their approach to complicated legal matters, and being involved in a number of cases that have had a significant influence on our legal system over the years.
Kingsley Napley can provide clients with the finest possible advice and service across a wide range of businesses and legal specialities with over 400 lawyers. While best known for our criminal litigation, particularly extraditions and white-collar crime, we also have experience in corporate and commercial law, dispute resolution, employment, family, immigration, medical malpractice, private client, public law, real estate & construction, and regulatory law.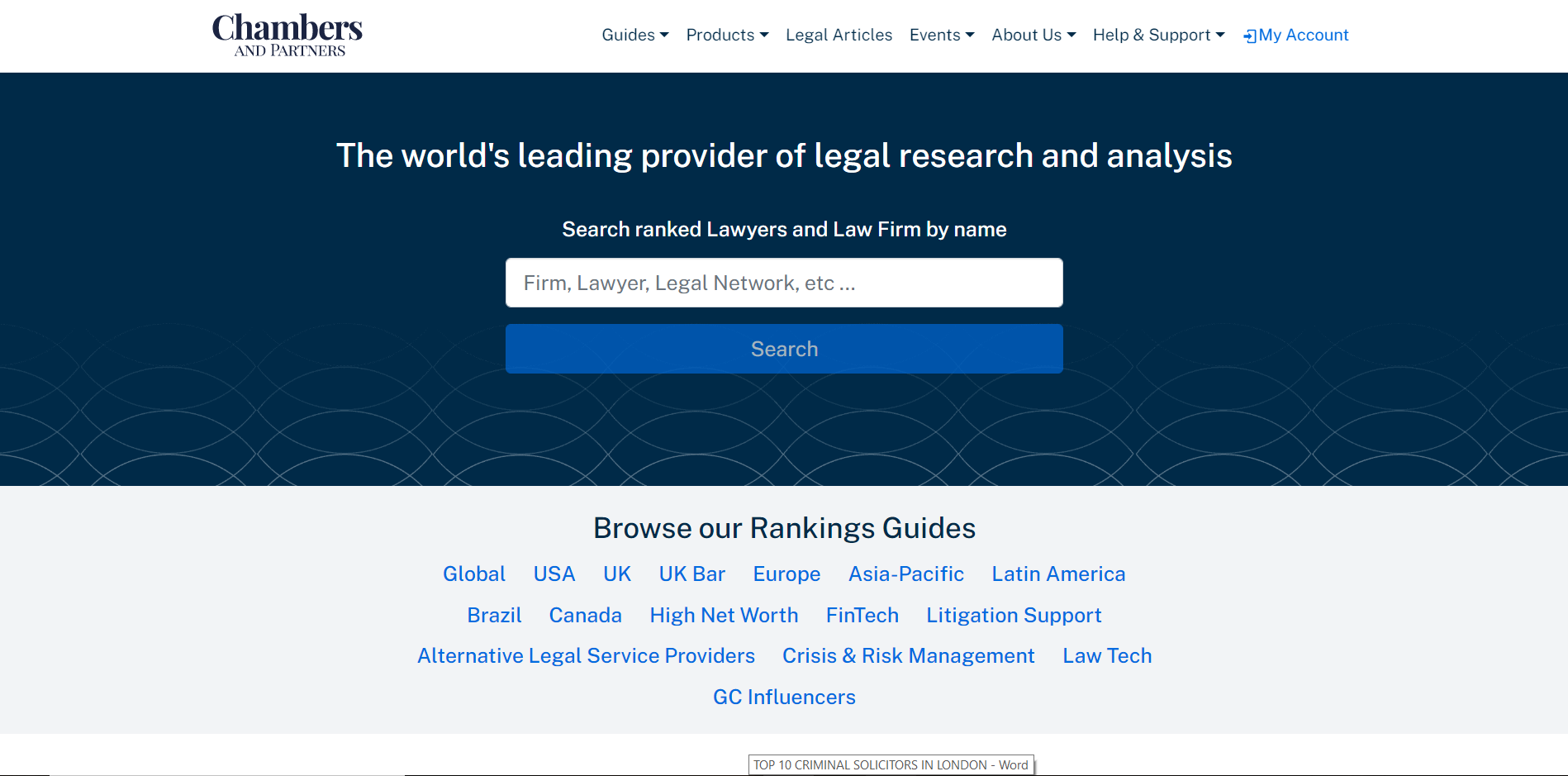 Chambers enables businesses to make educated decisions about legal services, saving time and money while lowering risk. Chambers' 200 Research Analysts offer a unique perspective on complicated legal issues in a variety of jurisdictions.
Tens of thousands of interviews with in-house lawyers and third-party specialists, such as barristers and accountants, are conducted each year by Chambers, providing deep insight into legal service providers. They guarantee to keep investing and innovating to provide their clientele data-driven platforms that help legal firms provide the appropriate services and in-house counsel engage with the right firms.
They are a well-recognised, top-rated criminal defence law company headquartered in the heart of the City of London and are routinely selected to defend clients appearing in high-profile criminal cases that draw national attention.
Bark & Co's top-rated legal aid and private attorneys specialise in financial crime, severe and non-serious other crime, corporate, fraud, and civil and property litigation areas of law. Their hand-picked attorneys are among the country's most experienced and highly accomplished litigators in their chosen field of speciality.
With this list in hand, you have the entire freedom to choose the lawyer who best suits your demands. Legal issues are difficult to cope with, especially in concerns with criminal litigations. Not only just a life-changing matter but an emotional journey for everyone. And when times like that strike, you need someone you can trust. With these lawyers on your side, you can rest certain that they'll be handled correctly as you look forward to the future.