Every year a survey is made to find out the worst places to live in the UK. in this survey, more than 80,000 people vote for their worst cities. So, here are the top 10 worst places to live in the UK. Yikes!
List Of Top 10 Worst Places To Live
1. Peterborough
Peterborough has retained its crown by securing the number one position in the list for three consecutive years. At this point, there is nothing left to say; the post itself says everything.
However, this is what the contributors have to say-"I have lived in Peterborough for more than 15 eras, and all I have to say is that it is a fucking Dump".
"One thing you should keep in mind if planning to visit Peterborough, if a stranger holds eye contact with you for more than three seconds, shout- WHAT?  Loudly And become extremely aggressive".
"Peterborough should have been torn down during WorldWar2, but even Hitler didn't think it was worth giving a hoot".
2. Huddersfield
Huddersfield has won the silver medal again this year. The position in the list itself says everything about the town.  Here's what people have to say about Huddersfield- "All of Huddersfield is not bad, just 80% of it".
"There is nothing much in the city, just the pound shops and coffee shops that are polluted and unhygienic. It is a horrible place to live". "Those people should avoid Huddersfield who wants to keep their wallets, mobiles phones, and sense of smell safe."
"People here have teeth like a burnt-out fuse box."
3. Liverpool
Liverpool has secured the bronze position in the list of worst places in 2021, which is self-pity for itself. We can only hope that next year things will change. This is what the people have to say about Liverpool-
"The girls here are so orange that it will peel the retina from your eyeballs."
"Since it is at the border of Northern England and Wales, it has the worst features of both the regions. Hence, a toxic stew of humanity".  "Liverpool is more like Live-in-stool."
4. Bradford
On the fourth number position in the Yorkshire's rose- Bradford itself. The top 10 list can't be completed each Year without West Yorkshire taking the top place in the list. Let's see what the visitors have to say about the city-
"Bradford can be a land of opportunity if it is a pound shop you dream of opening."
"If you want the best deals, then come to Bradford, buy1 get one free chicken and chips or some cheap deodorants from some local junkies". "In Bradford, you will see more cop cars as compared to other cities because there is so much drug crime; it is like a part of everyday life."
5. Hull
Hull is the three times winner in the list of worst places, but it has secured the fifth position in the list this time.
It seems like the Kingstons- Hull is back in the game, this time at Number 5. According to the visitors-
"Nowhere else you can see humans acting in depraved manner and sight 50s post-war original and authentic concrete structure". "We recommend a day trip with families to Hull instead of a family day trip to the zoo." "Hulls to [email protected] is same as sargasso sea is to eels, an endless spawning ground."
6. Luton
Luton is a city in Bedfordshire, and it is a town that has given birth to world-famous habitues like Tommy Robinson and England's most dangerous prisoner- Charles Bronson.  Here's what the viewers have to say about the city-
"Marsh farm in Luton is a scary place. Never walk past the roads alone at night".
"The town itself is not very alluring."
7. Jaywick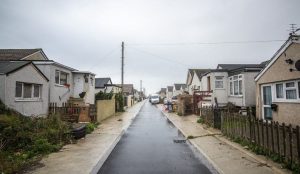 Jaywick is not so famous but has made its debut this year in the list of worst cities and in the seventh position. However, Jaywick tops the chart as UK's most deprived area. It is a bustee town built on the base of Clacton-on-sea, Essex, and it makes it even the worst.
It is a seaside vice city where people live in slum houses that overlook the beach while shambling sheds behind them to the poor and strapped.
8. Wakefield
For the time being, Wakefield was not in the list of top 10 worst places, but it has now drawn on to the list of worst places. This time they are officially entered at number 8th position.
Here are the views of the people about the good old shakey wakey-
"My favorite place in Wakefield city is the gateway out of place– the Westgate railway station." "Wakefield is a place where you can see a nine-year-old saying f#ck off."
9. Torquay
Hitting on the number 9th position is the English Riviera, Torquay. According to us, it is probably the biggest upset of this year. Torquay is famous for a lot, well, not really. We only know of one thing that John Cleese got inspired for Fawlty towers after living in a hotel there.
Well, this is what the visitors say- "if you don't have a kid at the age of 20, then are you really from Torque". "Keep in mind to not bring valuables in Torquay with you, as there are high chances that they all will get stolen." "Torquay is the only seaside town in the UK where you will find more [email protected] than seagulls."
10. Halifax
Halifax ranked number 10 this time. If you know, Halifax has a stunning peace hall and a bank. This is the first time that Halifax has made its debut on this list. We don't know if we have to congratulate them or feel bad for them sarcastically.
It looks like covid-19 lockdowns have given the people too much time to think of how shit their town is. Anyway, we welcome Haliafaxers to the list. You have probably heard of the city because of the buildings that bear its names or only because of the claim that the famous Ed Sheeran was born there. According to locals, "nothing in the world can prepare you for Halifax."
Thank You all for reading this article on the Top 10 worst places to live in the UK.