You have to be careful and confident while investing in Cryptocurrency. Crypto is a volatile asset. Perhaps a wrong decision will incur you a loss. So, we have listed down the top 10 Cryptocurrency Apps in the UK in 2022 to ease your Crypto trade and exchange for you.
Best Cryptocurrency Apps in the UK
Here are the cryptocurrency apps in the UK that are currently available and personally tested.
1. Binance
When it comes to trading volume, Binance is the number one Cryptocurrency exchange app. Be it Bitcoins, Ethereum, Tezos, Link, Binance Coin, or any other Cryptocurrency. You can trade them at the lowest prices and make good money. It does not matter whether you are a pro at Cryptocurrency or a fresher in the Crypto market; you can ace up using the app easily. It has an easy-to-use GUI. Be it convenient payment options or any process like NEFT/RTGS.
You can implement it quickly along with Peer-to-Peer transactions. It lets you withdraw funds 24*7 without limitation of availability or customer support. It supports a superfast KYC procedure. Binance has proved to be a secure and reliable platform for Cryptocurrency.
2. Coinbase
Looking for an all-in-one app for Crypto related news, price tracker, Crypto market insights, and a secure digital Crypto wallet? Well, then Coinbase is the one made for you. Be it signing up for the first time, completing the KYC procedure or trading anything, Coinbase's interface is built to provide you with a seamless and rich experience. It doesn't matter if you're not an expert handling device, but you still won't find any issues.
You can even convert your Cryptocurrency into any other national currency like euros, pounds, dollars, rupees, and much more. It has a detailed dashboard that displays the prices and values of all your assets. Coinbase is convenient for trading as you can trade with it anytime and anywhere.
3. eToro
If you are from the UK, then eToro is an app that can provide you with a multitude of benefits. If you trade on eToro, it charges no broker fees. However, it does not apply to Leverage trading.
You can sign up using a free account. It lets you invest in the leading stocks worldwide and gives the best returns. It offers you several risk management features like the Stop Loss Risk Management feature, Negative Balance, Leverage Trading, and many more. eToro's Negative Balance feature absorbs all your losses, taking your Negative Balance to zero for you to start afresh.
If you don't know how to use it the right way or a newer one in the Crypto market, you can first try your hands on the Paper Trading feature. The feature enables you to practice real-time trade without any investment.
4. Blockchain.com
Blockchain.com is the most popular and widely used Cryptocurrency platform existing. From buying or selling Crypto to exchanging or swapping it, Blockchain.com does it all. The app has created over or around 70M wallets and has done more than  $800B transactions.
It is a Crypto wallet that provides various features, offers enhanced security, and is a superior app amongst the other Cryptocurrency apps prevailing out there! You can buy and sell a renowned range of Cryptocurrencies available.
You can earn about 12% rewards annually under certain conditions. For advanced security, it offers The Two Factor Authentication System and lets you set a 4-Digit Pin for protection.
5. Crypto.com
Crypto.com is a popular platform. However, the X-factor that makes it remarkable for users in the UK is that it provides you with a Faster Payments Service (FPS) using which you can credit or withdraw GBP without any issues. Further, to enhance your Cryptocurrency experience, it provides additional services like Crypto.com Wallet and Crypto.com VisaCard. It has a lot of crypto charts to make your trading easy and effective.
The unique feature of Crypto.com VisaCard is that it charges you no fees for ATM withdrawals. You can avail of instant loans if you deposit your Crypto coins.
Moreover, you can earn diamonds for every mission you complete. You can avail special rewards by exchanging your rewarded diamonds. Be it BTC, LTC, SHIB, DOGE, or familiar ones. You can trade/exchange them quickly.
6. Gemini
Gemini is a Crypto trading platform, especially for beginners, as it is simple to use. It stands distinct from other apps as Gemini is a completely certified and legal Crypto platform. It is believed to be the "most secure Cryptocurrency exchange" platform worldwide.
Whether you want to buy, sell or trade Cryptocurrencies, you can use the platform as it supports 40+ Cryptocurrencies. You can create a Gemini account as per your needs- a standard Gemini account if you're a fresher trader in the market and the ActiveTrader account if you are an experienced one in the field.
7. Kraken
Kraken is one of the most accessible platforms worldwide for Crypto trading. It is the oldest Cryptocurrency Exchange platform globally as it's been in existence since 2011. The platform has several features for its users, which is why its existence in the long run.
Kraken supports multiple payments, advanced security standards and offers low buying/selling fees be it an amateur trader or an experienced one.
8. Coinsmart
Coinsmart was initially started to make it easy for everyone. It will help everyone to access the Crypto trade. You can buy and sell currencies like Litecoin, Dogecoin, Bitcoin, and Ethereum.
However, it charges fees on several of its trading procedures. It is preferable to become acquainted with them prior to making an investment. It is customer-friendly and available 24/7 at your service. Cryptocurrency investments are volatile; hence you should read the instructions well given in the app.
If you lack prior knowledge, start trading only after knowing the basics of Crypto Trading. The app provides a secure verification, and you have the feature of 2FA to protect your account.
9. Gate.io
Need a single app for all your Cryptocurrency and blockchain assets? Then use Gate.io as it is a reliable, safe, and secure platform for Cryptocurrency trading. It offers you the advantage to earn interest by lending your Crypto coins.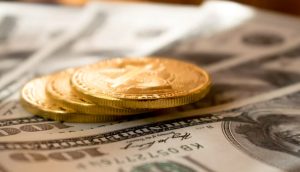 A sophisticated system to simplify your Crypto withdrawal and deposit process. It benefits stop trade to avoid any risks after fetching the required profits. You can get almost all types of Cryptocurrency exchanges in the app. You do not need to pay any amount for depositing your Crypto payments.
10. Bitstamp
Bitstamp procures you with an easy and quick Crypto trading and exchange experience. It is a secure platform that supports over 40 types of currencies worldwide. Bitcoin, Bitcoin Cash, Litecoin, Ethereum can trade all over the platform.
Conclusion
It is easy to use and makes it convenient for amateur traders. An app like Affdeals has an organized dashboard for your trade. Moreover, the app protects your capital by its effective Biometrics.