Well before Brexit, British businesses began seeking out a European base, and today that trend continues. The lure is frictionless trade within the Schengen area and access to European markets. There are also other possible advantages, such as cheaper operating costs and local financial incentives. According to Statista, the average cost of prime office space in London, per square metre, per annum, is 1492 euros; compare that figure with some of the office costs in the cities below. The optimum relocation destination for your business will depend on the nature of your business and the markets you intend to penetrate; however, these European capitals are certainly worthy of your consideration.
5 European Cities to Consider Moving Your Business
1. Berlin, Germany
One of the world's great cultural centres, Berlin is at the heart of a politically stable economy which provides robust legal protection for its businesses. Its world class higher education means that there's a highly skilled workforce available and its high quality of life acts to attract external talent.
The cost of living is similar to that of the U.K., but average office costs are just 516 euros per square metre. Berlin has a long tradition of research and development and there are attractive incentives to encourage new businesses in this area as well as start-up grants and business loans.
2. Amsterdam, Netherlands
The Netherlands has proved particularly attractive to British business in recent years, with hundreds of U.K. limited companies choosing to relocate there. A world leader in sustainable transport, Amsterdam has an outstanding transport system, which means that the international airport of Schiphol can be reached from most parts of the city in 30 minutes. Tolerant and liberal, Amsterdam has a highly educated multilingual workforce. The cost of living is higher than that of the U.K., but office costs are far cheaper at an average of 470 euros per square metre.
3. Reykjavik, Iceland
Although not part of the E.U. Iceland is part of the Schengen area and thus trades freely with the rest of Europe. Reykjavik, Europe's northernmost capital, is a small city but home to many businesses and has a thriving cultural life. The climate is a challenge for foreigners but probably not as much of a one as you might expect; summers are cool and dry, and winters are snowy.
Iceland is a world leader in green investment and there are generous incentives to help businesses establish sustainable and environmentally friendly operations as well as incentives for research and development. A possible disincentive is that Iceland has one of the highest costs of living in the world.
4. Lisbon, Portugal
Thanks to massive foreign investment and E.U. grants Lisbon has become one of Europe's most vibrant capitals in recent years, becoming a magnet for both digital nomads and big tech. There are a number of reasons for its popularity, but key factors are safety, Portugal is the third safest country in the world, and affordability. Portugal is ranked at 66 in Numbeo's cost of living index, that's 35 places lower than the U.K. and one of the lowest costs of living in Europe. According to Statista, the average cost of prime office space, per square metre, per annum, in Lisbon in Q4 of 2021 was 300 euros, making it one of the cheapest European capitals in which to rent office space.
5. Vienna, Austria
One of the great capital cities of the world, Vienna is renowned for its art, architecture, and music. The city has 20 universities and 5% of its working population are engaged in research, making it one of Europe's leading research and development centres.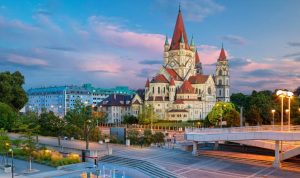 Its position at the heart of Europe, together with low development costs have made it very attractive to businesses. It is home to more than 200 multinational corporation headquarters and around 100,000 businesses, evidence of its strong start-up ecosystem. Rents are capped, making its office space only slightly more expensive than Lisbon.