Being a courier will always be a tense job during rush hour, but when you are riding a two-wheeler, finding your way through traffic becomes just that little bit easier. This is precisely why courier companies and food delivery services still depend heavily on their riders to get things delivered on time. With that in mind, here are the four best scooters for couriers available in the UK.
4 Best Scooters for Couriers
Honda PCX 125 Hybrid
The Honda PCX 125 offers a comfy ride, looks downright futuristic, and the newer models even come with a liquid-cooled 4V engine for faster deliveries. Thanks to the scooter being a hybrid, a full tank and battery will help you travel 175 miles with ease. There's ample room under the seat to store your helmet and you can carry a lot of stuff on the scooter's back, thanks to a large pillion seat and additional storage space. Just grab a quote from the Quotezone website to make sure you're covered with the appropriate courier insurance policy and you are all set to ride and deliver for years to come.
Lexmoto Aura
Adding a bit of colour to the scooter's already impressive chassis, the brand new Lexmoto Aura is a looker for sure. More importantly, with respect to this post, it's surprisingly affordable at roughly £1200 or less! The 125cc, 10.3hp engine is nothing to scoff at either, and despite costing a fraction of most other scooters on this list, it provides excellent on-road heft for easy and safe manoeuvres.
Piaggio Medley
The Piaggio Medley deserves a spot on this list simply because of the ample storage options it provides; something that no courier can ever fault it for. It costs more than some of the others here, but it is an extremely well-made scooter. However, you may still find more value for money going with the tried and tested Honda PCX 125 Hybrid.
Yamaha NMAX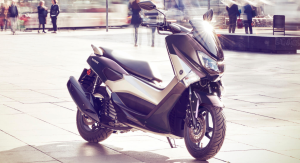 A very common scooter used for deliveries in the UK and pretty much all over Europe, the Yamaha NMAX is both fuel-efficient, as well as being able to provide better torque than any of the options listed so far that saves energy and money, thanks to the new EU5 Blue Core engine. With plenty of storage space, ABS, and advanced traction control, it is probably the best competition the PCX has for couriers and delivery service personnel. If you are considering the Yamaha XMAX 125, then you should know that it costs an additional £1,500 (approx.) for the extra power and heft (166KG).
In case you are wondering why the BMW C400 GT was not included on this list, then that's simply because it's far too expensive and fuel-hungry to be used as a courier's scooter. Nevertheless, if you need the speed more than anything else, it's one of the best 350cc scooters around – just not adequate for grocery deliveries. If you are willing to go that high first set budget, do consider the Suzuki Burgman 400 as well, especially for the design and power.