WordPress allows users to upload the files on their WordPress site. The user can easily upload their files like PDFs, images, spreadsheets, and Word documents. In this article, we provide the file upload plugins for your WordPress site.
Why Use a WordPress File Upload Plugin?
The default method is for the WordPress site to upload its media files into the WordPress dashboard. Then they use it when they need it for a site. It is a simple way, but it takes time and potential security risk. Anyway, you can use the right plugins and then easily accept file uploads on the front of your WordPress website.
Receiving documents, images, and other files can get additional information from your user. Additionally, plugins are an easy method to receive guest posts, resumes, and quotations from your clients.
Top 6 Best File Upload Plugins for WordPress
Here are the top file upload plugins for your website.
WPForms
File Upload Types by WPForms
Formidable Forms
WordPress File Upload
MemberPress
Easy Digital Downloads
1. WPForms
Image – Source
WPForm is the best contact form plugin and is easy to use. A user can easily drag and drop their file on the WPForms. It comes with preloaded plugins, so you can easily customize your form template. There are two file upload options available.
Classic File Upload – It accepts a single file
Modern Drag and Drop- a user can upload multiple files same time.
Besides, you can set file restrictions for your website. It protects your site from malware.
2. File Upload Types by WPForm
It is a free file upload plugin in WordPress. WordPress allows limited file types only. Sometimes users upload multiple files, and WordPress shows an error message like "sorry, this file type is not permitted for security reasons".
If you use the free file uplod plugin, then you can easily fix those errors. This plugin is placed in the WordPress admin area. So, users can simply enable or disable the extensions in the admin area.
It allows common file extensions such as.zip, Ai, XML, SVG, Download CSV, and much more for your WordPress website. One of the drawbacks is it doesn't have any front-end form interface.
3. Formidable Forms
Image – Source
This is one of the popular plugins for WordPress. You can use drag and drop builder for uploading your files. Once a file is uploaded, it is stored in the WordPress media library. Users can easily access those files when WordPress users want. It accepts multiple file uploads.
One of the additional features is, that users can set the file limit on forms. It delivers inbuilt optimized templates and customizations.
4. WordPress File Upload
WordPress File Upload plugin is another free file upload plugin for WordPress. It offers shortcodes to visitors for uploading files from any blog posts and landing page. Once the file is uploaded, then you can see that file inside the WordPress dashboard under the uploaded files menu.
You can do a lot of customizations, so you can add or remove colors, labels, and dimensions from the custom field. One of the drawbacks is this plugin is a little bit complex for a new user.
5. MemberPress
Image – Source
Member Press is the best premium plugin for WordPress. If you are interested in paid plugins, this plugin is the right choice. It provides full access to control file permissions. You can set restrictions for particular users for file uploads.
So, members and users can only sell their documents on the website. And you can create custom forms and set many restrictions like membership subscriptions, online transactions, and more.
6. Easy Digital Downloads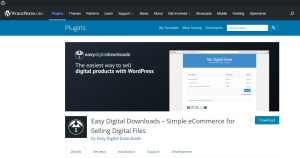 Easy Digital downloads are the best e-commerce plugin that comes with a premium. It allows users to sell digital products online including eBooks, PDFs, audio, software, and much more. It offers cloud uploads, so you can upload your files into the cloud platforms like AWS, Dropbox, and so on.
Conclusion
WordPress has over 50000 plugins, it is hard to find the right plugin for a particular purpose. Due to these, these are the best plugins for those interested in file upload forms.
Disclaimer: The screenshot images used in this blog post are picked from WordPress.org and different websites. They are not owned by I Do Business. We have attached the source link, and the copyrights go to the respective website owners.