The Digital Marketing industry is one of the fastest-growing industries in today's world. This career includes many strategies like web design, SEO, media marketing, email marketing, content writing, and many more. Digital marketing succeeds every year because it is based on your learning skills. The best digital marketer adapts quickly and learns the latest trends.
Digital marketing practices change your career to a professional level in business. How will you become a Digital Marketing expert? Learn these 7 essential niche skills to change your career as Digital Marketer.
7 Essential Skills Every Digital Marketer Needs to Know
SEO and SEM
Video Marketing
Content Marketing
Data/ Analytics
Communication Skills
Social Media
Basic Design Skills
1. SEO and SEM
Search Engine Optimization (SEO) and Search Engine Marketing (SEM) are powerful frameworks in Digital Marketing. Search engine algorithms are constantly modernizing these days. So, you can upgrade your skill in SEO and SEM for running a successful digital marketing campaign.
 2. Video Marketing
Video marketing is another important strategy in the digital marketing business. Because a single video is better than a thousand of them. In video marketing, you can promote your business and product videos online and on local channels. Nowadays, customers love videos on social media. Some digital marketers don't have full knowledge of video production. So, you should use video editing tools like Adobe Premiere Pro, Blender, Shotcut, and so on.
3. Content marketing
Content marketing helps with targeting a business audience. It is not only for creating to write SEO content, you should understand the entire process and get an audience. An essential goal is to "create good quality content" all the time. Content creation is a little bit difficult. Although, it helps to develop ebooks, web content, and much more
4. Data/Analytics
In digital marketing, no matter if you're a beginner or an expert. But it is an essential strategy for those who are interested in Digital Marketing Skills. If you don't know the Data/Analytics, you cannot monitor and audit the customer reports. Data tracking is essential to work for digital marketers. Google Analytics is a good choice for you.
5. Communication Skills
Excellent communication skill is a basic need of Digital Marketers. It helps with public speaking and conveying information via digital devices like mobile and much more. Communication skills help with spreading messages and building a good relationship with customers.
6. Social Media
Social media is a great platform for digital marketers to create social media marketing strategies. It helps businesses to do business by targeting the right audience. All social media platforms have different algorithms. Facebook, Instagram, Twitter, YouTube, Pinterest, Google, my business, and so on. You can make advertising, posts, hashtags, and create business groups for companies with the help of social media.
7. Basic Design Skills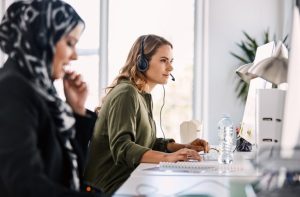 Basic design skills are recommended for all Digital Marketers. It helps to create visual content like web banners, business vouchers, logos, and so on. Photoshop, Canva, Inkscape, and Gimp are the best tools for improving your design skills.
Conclusion
In 2022, digital marketing is the best way of changing your career. If you can learn these essential skills, you will be an expert digital marketer.